Helping people live a healthy later life
My aim is to help older people to improve their mobility and to have fun while they do it.
EXTEND Exercise sessions are for men and women over 60 or those with restricted mobility. You will spend an enjoyable hour with like-minded people and because you are having fun you won't notice that you are exercising every part of your body from your fingers to your toes. We play familiar music from the 50s right up to modern day which will have you moving in no time! The session starts with standing exercises and movement to music (some people like to have a chair in front of them for support) including some dance. At least 20 minutes will be seated (depending on the ability of the participants) but you can be seated for the whole class if necessary. We focus on balance and strengthening exercises and apparatus is also used including Therabands (resistance bands), light hand weights, squishy balls and scarves. At the end of the session, we have social time with tea/coffee and (maybe) some biscuits!
Example Playlist 1
STANDING
YOU MAKE ME FEEL LIKE DANCING – LEO SAYER (warm up 1)
WALKING ON SUNSHINE – KATRINA AND THE WAVES (warm up 2)
KISS ME HONEY – SHIRLEY BASSEY (dance)
SHOTGUN – GEORGE EZRA (dance)
EYE OF THE TIGER – SURVIVOR (punching and squats)
LET'S TWIST AGAIN – CHUBBY CHECKER (circle dance)
SEATED
CRAZY – PATSY CLINE (stretch)
SIMPLY THE BEST – TINA TURNER (weights, arm strengthening)
SOMETHIN' STUPID – ROBBIE WILLIAMS AND NICOLE KIDMAN (hips)
STOP IN THE NAME OF LOVE – THE SUPREMES (sit to stand)
POETRY IN MOTION – JOHNNY TILLOTSON (feet and ankles)
RHINESTONE COWBOY – DAVID HASSELHOFF (scarves)
HOME – MICHAEL BUBLE (stretch)
Example Playlist 2
Monday
United Reformed Church, Argyle Street, Bath, BA2 4BA
10-11am and 11.30am-12.30pm £5 per session
Odd Down Sports Ground, Chelwood Drive, Bath, BA2 2PR
2:30-3:30pm (Class for The Parkinson's Society but all welcome)
Tuesday
Orchard Hall, Orchard Vale, Midsomer Norton, BA3 2RA
10-11am £4 per session
Wednesday
Paulton Methodist Church Hall, Paulton, BS39 7QQ
9.30-10.30am £4 per session
The Rural Network Hub, Chew Valley School, Chew Magna, BS40 8QB
12-1pm £4 per session
Farmborough Memorial Hall, Little Lane, Farmborough, BA2 0AE
2:30-3:30pm £4 per session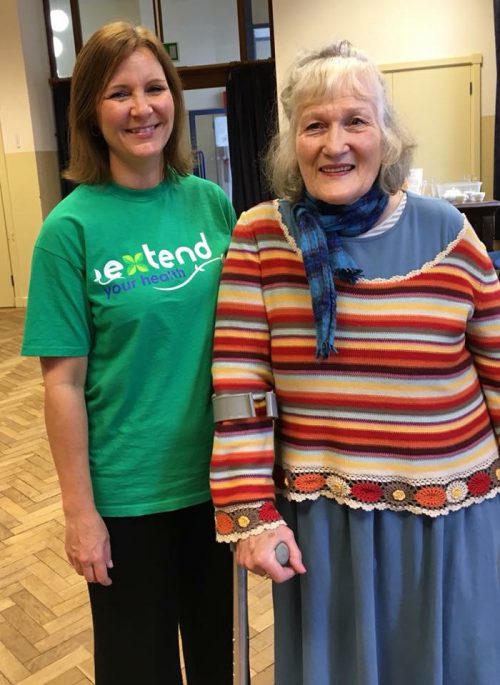 See what people are saying about my sessions
I enjoy Ketyn's exercise sessions both on Zoom and in person (when possible). I find that they help my co-ordination, balance and stretching. Ketyn makes exercising fun rather than a chore!
Charles
Bath
It has always been a joy to be part of Ketyn's Extend Classes. Her dedication and obvious love of her chosen profession is conveyed in demonstrating the exercises and routines.
MP
Midsomer Norton
I so enjoy the benefits of my Extend classes with Ketyn. She is such a good instructor and also kind and relates to people easily. These qualities make her an ideal candidate for this sort of job. The provision of the Zoom sessions takes a lot of hard work and dedication which members of her classes much appreciate.
Di
Bath
The sessions with Ketyn always create a really good feeling while keeping us fit – the music is most enjoyable as it reminds me of my far off youth. She is by far the best fitness teacher I have found and also takes a great interest in each of us and is always kind and caring
Carmen
Bath
I really do feel that Ketyn's Extend classes have extended both my physical and mental health in the past two years – in the exercise room and online on Zoom. They make you feel BETTER
Vivien 82
Bath
Ketyn leads excellent, well thought out and presented exercise classes and I find the Zoom sessions very enjoyable – it's like having one-to-one sessions with Ketyn. For those of us living on our own, she took the trouble to contact us over the Christmas period to see how we were coping. That is true friendship! Thank you Ketyn – you are a star!
Pat
Bath
I am an 83 year old widow and I love the Extend Classes as we exercise all of our joints to music (standing up and seated). Ketyn is a brilliant teacher and ensures we exercise within our capabilities – a little exercise is better than no exercise at all
Carol
High Littleton
I enjoy the relaxed atmosphere of the sessions – there is no pressure or competitive element to the moves and they can be adapted as you feel most comfortable with. The sessions have certainly made me feel 'fitter' and think more about my posture which is a positive.
The Zoom sessions give you a chance to see others which is particularly useful if you live on your own and it's something to look forward to.
Sally
Farmborough
These sessions are my lifeline, so enjoyable and positive
Clive
Timsbury
I benefit from Ketyn's sessions because of the clear instructions, which are always given with kindness. No criticism or bad remarks to/about is made to anyone, ever. Ketyn, you are a star!
Maureen
Midsomer Norton
I enjoy Ketyn's sessions because and I always come away feeling great mentally as well as physically. I love dancing to some of the old favourites and the balance exercises have really helped me.
Liz
Bath
I enjoy the Zoom sessions as I need the exercise and find I'm more committed by being with others – and it feels sociable.
Betty (aged 91)
Farmborough
Ketyn runs an amazing Extend class for both men and ladies of "a certain age"! The sessions are both professional as well as fun and a great start to any day. I am enjoying the Zoom sessions and would really recommend them to anyone who wants to exercise in a fun and non-pressurised situation. Many, many thanks
Jan
Bath
The world seems a better place after an hour of exercise with Ketyn.
Going over and beyond her remit of leading our exercise sessions she has also arranged social chats for our groups so we can keep in touch which have been brilliant. She has been so caring and supportive during these lockdowns
TH
Bath
Ketyn is always happy, and genuinely willing to help any of the group in any way she can.
Margaret
Midsomer Norton